Introduction
Services
Practitioners
Timetable
Hot Stone Reflexology
Using the theory and principles of traditional reflexology, hot stone reflexology offers a deeply relaxing treatment that is able to penetrate the various points in the feet and stimulating significant benefits for clients. Generally speaking, if an area of the body is suffering from inflammation, tension or congestion the corresponding reflex points in the feet will be sensitive when pressure is applied.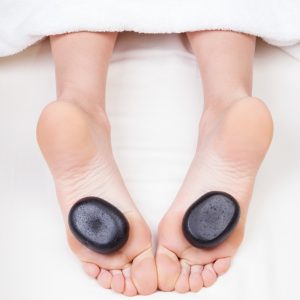 "Hot stones are loved by clients wanting to take relaxation to another level; it has been shown to lower cortisol levels and help to support the parasympathetic nervous system to help the body reverse the stress reaction." Charmaine Clarke, Reflexologist
Charmaine uses a selection of Botanicals during treatments, tailoring each treatment to your requirements. Charmaine specialises in fertility support with Reproflexology and Maternity Reflexology, while also supporting a wide range of clients with traditional reflexology, hot stone and lymphatic drainage techniques.
If you haven't experienced reflexology before or if you would like to know more about the origin of treatment, take a look at our Reflexology page for more information.
Treatment
Hot Stone Reflexology (1 hour)

40
Meet 1 practitioners in Woolpit Clinics