Introduction
Services
Practitioners
Timetable
Reflexology
Bringing balance and a sense of wellbeing
Reflexology is a gentle non-invasive therapy which helps to restore a person to a more tranquil temperament, improve their mental condition, and enable the person to cope better with life's demands. It encourages a generally healthier body by facilitating the proper functioning of the circulatory system thus enabling the supply of nutrients and oxygen to reach all cells of the body. If an area of the body is suffering from inflammation, tension or congestion the corresponding reflex points in the feet will be sensitive when pressure is applied.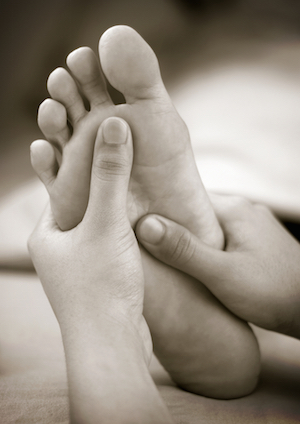 The body is able to remember injuries and operations just as we can within our memory, therefore it is possible for a trained reflexologist to pick up not only current conditions but also past conditions that have been suppressed and may remain unresolved. Reflexes on the feet and hands can highlight any areas of weakness or vulnerability that may give rise to problems in the future.
Reflexology helps to give the body what it needs, this might be a reduction in the symptoms of irritable bowel syndrome, menopause, or even assistance in losing weight, it is all about bringing balance, harmony, and a sense of well-being to the body. Relaxation is the key to good health, and during a treatment many relaxation techniques are used. These techniques help release muscular tension to bring about a state of complete calmness.
  You can call us any time between 9am – 6pm Monday to Friday or 10am – 3pm each Saturday 01359 408 011
Treatment
1 hour treatment

40

Concession are available, please enquire for further information
Meet 1 practitioners in Woolpit Clinics